Cornwall - North Cornish Coast
Booklets on this coastal landscape include geology, lime kilns, Boscastle floods.

Click on the map to see the range of publications we stock covering Cornwall.
NORTH CORNWALL GEOLOGY GUIDE
Heulyn Lewis
£3.99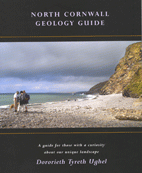 North Cornwall District Council 2006.The 46 stout, glossy, water-resistant pages with an easy-to-open wire binding are designed for outdoor use. There are over 150 colour illustrations, including many thumb-nail photos, which, together with written descriptions, encourage the identification of local rocks and minerals. This introductory companion guide includes sections on geological history, structure, mining and quarrying and is designed to enhance the enjoyment and understanding of this unique area.
BOOK IS OUT-OF-PRINT AND CURRENTLY UNAVAILABLE
THE LIME KILNS OF NORTH CORNWALL
North Cornwall District Council
70p
A folding 10-page pocket-sized pamphlet with 12 illustrations and a location map. Topics headings include; limestone; the industry; imports; lime kilns; the lime burning process; uses. Specific kiln sites are described in Bude, Crackington Haven, Boscastle, Tintagel, Port Gaverne, Port Isaac, Egloshayle, Wadebridge, Camel estuary, Padstow, Trenault, Hick's Mill, Larrick, South Petherwin, Wishworthy and Launceston.
CRACKINGTON GEOLOGY TRAIL
North Cornwall District Council (2007)
70p
A folding 10 page pocket-size pamphlet with 24 colour photographs and maps. A clear map of the trail and an associated geology map offer directions and a commentary for a 5 mile, 8 km, (two hour?) circular walk along the coast. Topics include minerals and mining, quarrying, coastal features and a look at beach pebbles.

BOSCASTLE - The Flood North Cornwall Coast and Countryside Service 70p
A folding 10-page pocket-sized pamphlet with 24 coloured illustrations and a rainfall map. The pamphlet explains how the 2004 flood happened, the sequence of events and the aftermath. Attention is drawn to the frequency of flash floods in the South-West, including the Lynmouth Disaster of 1952 (see Lyn in Flood, Watersmeet to Lynmouth [Thematic Trails 1990]). The prospect of future Boscastle floods is considered.
BOSCASTLE 16 August 2004 – the day of the flood. David Rowe
ISBN 978-1-85022-193-7 Truran 2004 £4.99
A5. 64 pages. 68 colour photographs.
In this 'human story' about the flood, Cornish journalist, David Rowe, records many original and compelling accounts to tell the story of that fateful day. In many ways it complements the 10 page pamphlet (see above) which explains how the flood happened.
You will find further "Rivers in Flood" booklets HERE