Welcome to Thematic Trails
Landscape companions
Thematic Trails specialises in landscape interpretation guides within South-west England; (Cornwall, Devon, Jurassic coast, Dorset, Somerset, Gloucestershire, Wiltshire, Cotswolds and Oxfordshire). Landscape themes include: geology, ecology, historical landscapes (urban & rural), architecture, geography and archaeology.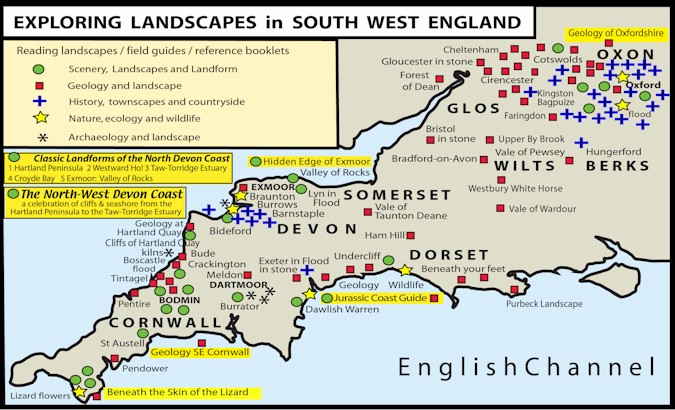 Thematic Trails, with clear directions and a straightforward commentary, are designed to be stimulating by posing questions of the unfolding landscape and, through guided observation and interpretation, increasing our understanding and appreciation of valued environments whilst at the same time providing a source of pleasure and recreation.

The booklets are written in a form suitable for both interested non-specialists, and those with a more direct academic interest, who may use the guides as a basis for a deeper or more formal examination of the themes introduced. In this catalogue, our own publications are supplemented by an array of recommended books which we stock, since they share our belief in the value of landscape interpretation.


You can buy anything in the catalogue direct from Thematic Trails (online or by post using the order form near the bottom of the menu). A handling charge of £1.50 is automatically added to the total and includes free postage and packing within the UK for orders of any size.
OVERSEAS CUSTOMERS PLEASE NOTE there is an OVERSEAS (non-UK) SUPPLEMENTARY CHARGE of £5.70. This MUST be added to your final order by tapping the ADD TO CART found in the How to Buy menu. Do not attempt to add this supplement at the final check point. Overseas orders are sent by airmail or the fastest route available.

Landscape Companions in South West England - District Headings.