Thematic Trails Coastal Landscape Pack.
This pack consists of the Geographical Association "Classic Landform Guide" (plus CD of illustrations) together with a nesting pack of 10 Thematic Trails which examine selected themes along the length of coast from the Exmoor coast to the Cornish border.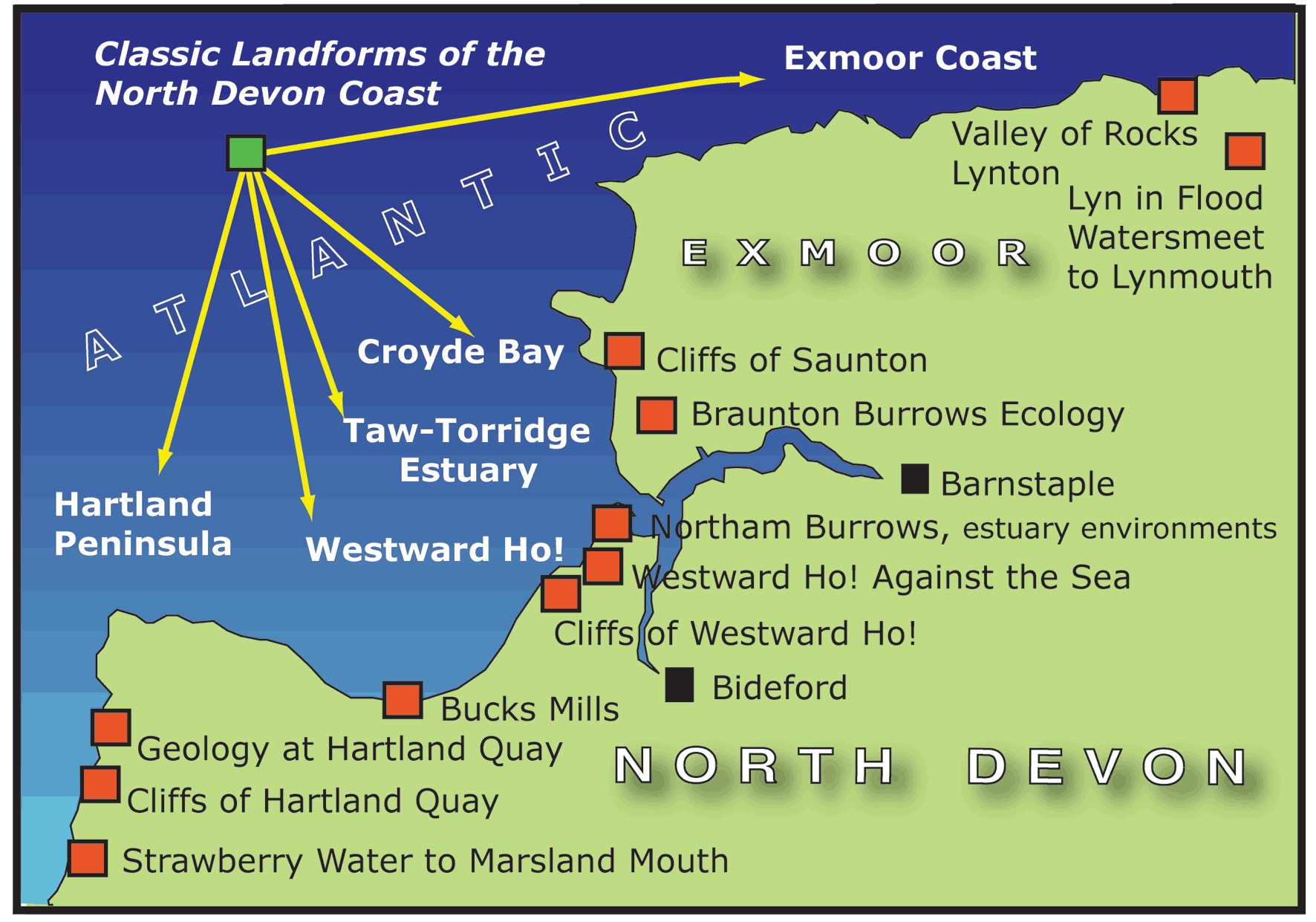 This offer (Coastal Pack) costs £31.00 (plus £1.50 handling charge which includes free postage), saving 25% on the normal catalogue price. The pack is delivered in a firm, plastic, spine-labelled box-folder suitable for book-shelf storage. This offer is not available wholesale.
A) Classic Landforms of the North Devon Coast (A Geographical Association Guide) plus a CD of over 100 images of N. Devon coast in both PowerPoint format
with commentary and also as a set of easy-access high-quality individual images.
B) Set of ten Coastal Landscape Companions published by Thematic Trails
1 Lyn in Flood, Watersmeet to Lynmouth
2 Valley of Rocks, Lynton
3 The Cliffs of Saunton
4 Braunton Burrows Ecology Trail
5 Northam Burrows, estuary environments
6 Westward Ho! Against the Sea
7 The Cliffs of Westward Ho!
8 Bucks Mills - people and place
9 The Cliffs of Hartland Quay
10 Geology at Hartland Quay
11 Strawberry Water to Marsland Mouth
Sites of Geological Interest in Devon
If you are interested in sites of geological interest in Devon here are two links which will interest you: www.devonrigs.org.uk offers a list of some 117 regionally important geological sites and enquiries for information on these sites are welcomed.
There is also an Educational Register of Geological Sites (a guide to Geological Fieldwork in Devon) and this may be found on: www.devon.gov.uk/geology.htm